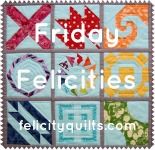 Today, what's making me very happy is that I took the plunge and got myself a new baby. No, I'm not pregnant. I got a new sewing machine! Meet Jojo, my new Janome Horizon 7700.
Jojo
Look at that giant harp! 11"+ of space to FMQ! I feel very fortunate to have found a local dealer who had some just-about-new machines available for a great price. Once I sell Bernie the Bernina (any local readers interested in a Bernina 145?), it should all work out very well.
How about you? What is making you happy this week?