Wow, January went FAST, eh?
Here's a little visual summary of my makes last month:
My Just Three for January were:
1. Complete the second appliance cover for my friend Cathy.
2. Make baby quilt for my niece who's due in February.
3. Donation quilt for a friend's fundraiser.
...and I scored a 100% woo hooo!
What do I want to do for February? Hmmm. I'll be going to QuiltCon and I'm very busy at work-work so I'm going to set the bar rather low:
1. Finish my Madrona Road Challenge project (blocks are all done!).
3. Make at least two more Scrappy Churn Dash blocks.
Last but not least, my friend Nikki The Girl Who Quilts is starting up a monthly challenge where you choose *one* thing with which to challenge yourself (doesn't even have to be sewing related) and share it, then check in the following month to report on your challenge.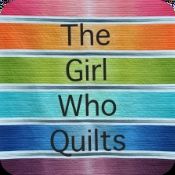 My February Challenge is to try at least two new FMQ motifs in my Madrona Road Challenge project.
And you, how about you? How's your year going so far? Whatcha got planned for February?