Hello, friends! It's Friday and you know what that means - Friday Felicities!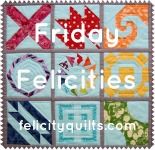 My Felicity today is a big one. I achieved a big personal quilt-related goal this past week:
I finally (FINALLY!!) found the time and motivation to publish my Easy Going Modern
pattern
! It's available for purchase on
Craftsy
for $5 (USD). The instructions for the quilt top and back for three sizes of quilt are included.
The motivation for me to finally get this pattern done was making it one of my Q2 goals in the
2013 Finish-A-Long
hosted by
Leanne She Can Quilt
. There is time to prepare your UFO/WIP list for Q3 so if you'd like to get in on the fun, just click on the button here and have a look at the details.
This weekend is a long one here in Canada as we celebrate Canada Day and I think Vancouver may luck out in the weather department. I hope you to too!