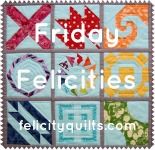 Oof! Lots of balls in the air these days, and I'm fumbling a bit. Kindly accept my apologies for the sporadic nature of Friday Felicities linkies!
My felicity today is that G has been trying her hand at making up jokes, mostly of the knock-knock variety. Absolutely none of them make sense ("Knock, knock! Who's there? Frog. Frog who? THE FROG HOPS IN THE POND HAHAHAHAHA"). Her track record changed this week, however. Are you ready? Here is her joke:
Why did everyone want to be friends with the toad?
Because he's toad-ally awesome!
Not bad, eh?