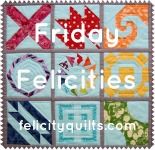 My felicity for today is the incredible outpouring of support my lovely guild - the
Vancouver Modern Quilt Guild
- is getting for our To Boston With Love initiative. It's a "collaborative effort of makers to bring peace and love from far and wide." All the details can be found on the
VMQG blog
, and so far there are 30 (!) guilds who've pledged to send peace flags. And you don't have to belong to a guild to contribute - all the shipping information and details are on the blog. We'd really love it if you contributed too!
And the Boston MQG is also undertaking a project - Quilts For Boston. All the details can be found on their blog
here
. Please consider contributing a block!