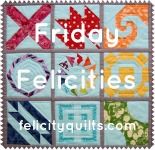 I've got a couple of Felicities to share with you today. The first Felicity is that we recently discovered the key to quiet solo play for G, an extremely social child who until now hasn't really been much of a fan of playing on her own. Her philosophy appears to be: why forego interaction with others when one doesn't have to? (My mom is exactly the same way so G comes by her Extroversion extremely naturally).
But sometimes, it's necessary (for practical and/or parental sanity reasons) to encourage G to play on her own. Enter Barbie. Two of her friends have Barbies and during playdates, G and the friend will play quietly and bicker-free for a loooong time with them.
So I picked up a couple of them at the thrift shop (because I'm cheap), but they each only had one outfit. Enter The Internet. Thanks to
Craftiness is Not Optional
, "Seawater" (so named because she came with a blue dress) and "Mattelle" (I think G heard me mention the manufacturer's name and went with it) have a new dress each and Santa has plans for some tops and skirts. Yay!
My second Felicity is that this is the weekend that I am spending on a retreat organized by the awesome and talented
Krista Poppyprint
. Three nights and four days of sewing, sewing, sewing. Also, wine drinking and snack-eating. As if that weren't awesome enough, some bloggy friends are going to be there:
Kristie
(flying in from Winnipeg!),
Krista
(coming up from Seattle!),
Janet
....oh it's gonna be fuuuuun! Shout out to my fabulous husband who has 4 days of solo parenting ahead of him. Hope your weekend is great