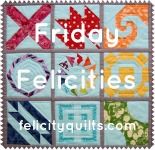 Happy Friday! It's been quiet here this week - the long weekend threw me off the routine and my sewing suffered a bit. But I managed to pump out a cute little mug rug:
I was heavily influenced/inspired by
Krista
's gorgeous
improv flowers
(I'm still sad that I was out of town when she did a workshop on this technique for the Vancouver Modern Quilt Guild!). I tried a few new FMQ designs with Aurifil 50 weight in a red/orange/yellow variegated colourway (#4657) in the petals, and stippled in the green background. Scrappy binding and it's all set to go.
My felicity is hearing G say at dinner last night, "OK, Three Good Things: Daddy, you go first." Three Good Things is my family's version of Friday Felicities. I instated it when talk of school seemed to be exclusively a litany of negatives from little G. It's true that she was struggling to find her place in the social hierarchy of the Kindergarten girls -- there are only three of them and the other two know each other from being in the morning preschool class together so G was odd-kid out.

I didn't ignore her anxieties about her classmates, but I really, REALLY wanted her to get in the habit of focusing on what went well each day so every night at dinner, we each take turns telling our "Three Good Things." I was so thrilled when she initiated it for a change, and I was delighted to hear her first Good Thing was that "school was great!"
Gratuitous Mama and G photo.
Note: if I thought for one second that I could get away with leggings like hers, I'd be all over them.
Happy Weekend, all!