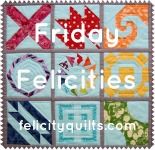 Happy Friday! It's Thanksgiving weekend here in Canadia (rhymes with Cascadia), as my american brother-in-law likes to jokingly call it, which means Monday is a holiday. Yay!
I have a very soft spot in my heart for Thanksgiving for a few reasons: it involves turkey, gravy and dressing/stuffing; the weather is usually marvelously Fall-like and you already know how I feel about that; and finally, K and I got married on this weekend 12 years ago this Sunday! So, yeah: love me some Thanksgiving - it's definitely a felicity for me.
Another felicity I would like to share is something you've read about here a few times - about twelve times to be exact. The
Stash Trad
virtual quilt bee ended this month with
Cindy
's Granny Says Boo! block. Stash Trad was a sew-from-your-stash bee, a feature I enjoyed immensely. Each month's "queen" got to choose the block and specify a colour scheme, and the rest of us sewed her the block using our own stash.
The variety of blocks I got to make over the year was pretty impressive. Check it out:
1.
Cracker Scraps for Angela
, 2.
Pine Tree block for Krista Poppyprint
, 3.
LynneBobSquarePants for January
, 4.
Arkansas Traveler
, 5.
Winged Square for Amy
, 6.
Radiant Ring for Elizabeth (Don't Call Me Betsy) - April
, 7.
colourful churn dash
, 8.
Stash Trad June Crown of Thorns
, 9.
Whirling Star for Kati Stash Trad
, 10.
Lone Starburst for Brioni
, 11.
String Star Stash Trad
, 12.
granny says boo! for Cindy Stash Trad
One or two caused me some heartburn (Arkansas Traveler and String Star, I'm looking at you), but the year was super fun and definitely stretched my piecing skills. Plus, I got to know my fellow sewists better - what's not to like about that? So, what about you? What were your felicities this week?