Whee! It's Friday! Gotta love those two-(work)day weeks.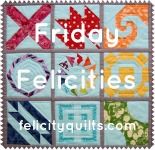 My felicity today is that I successfully made myself a skirt!
Photographer is 4.75 years old hence the focus problem.
It's the Amy Butler Barcelona A-line skirt with about 4" lopped off the bottom (seriously, the pattern seems to have set the length for maximum stumpification of legs) and
sans
zipper. I was given some stretch cotton recently and decided to make up the pattern to see how the sizing was and whether I liked the outcome.
I was unsure how to handle the stretch cotton because the pattern calls for quilting weight cotton which obviously has no stretch. So I sought the advice of two garment sewing experts, Lili from
Spool of Thread
who regularly teaches the Barcelona skirt as a class at the shop, and
Heather
, a fellow VMQG member and fabulous garment sewist. Lili suggested that if the cotton were stretchy enough, I could probably forego the zipper (YES PLEASE!), and she also gave me some good tips for fitting the skirt. Heather suggested I could leave the skirt unlined if the fabric were thick enough (time saver? YES PLEASE!), and told me how to make a waistband facing.
I was so buoyed by my success that I went ahead and ordered a pattern for a pencil skirt! And I'm going to go buy some stretch denim now to make myself a denim version of the Barcelona skirt. Hurrah!
Another "felicity" in my life doing what makes her happy: dancing!
So what are your felicities this week? Do tell, and please link up and share.
Have a great weekend!