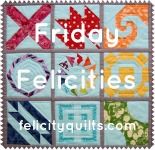 Whew! Well, that was a busy month and a bit! The good news is that I had the opportunity to apply and interview for a new role at work - a permanent position in the training & development area where I've been working for the past year. I have had the same job for the past 15 years so I didn't even have a resume or anything like that. The application and interview were a lot of work but I'm thrilled to say that I got the job! Hooray! Felicity #1!
And Felicity #2 is that I won the VMQG block lotto again. This is the third time I've won - what can I say? VMQG brings me luck. That doesn't extend to the actual lottery, though, unfortunately. But I will have a chance to play with a bunch of these wonderful blocks:
We put together sets of 3 hexagons in a black/white plus a solid bright - these were the three I contributed:
They're assembled using Jacquie Tallgrass Prairie Studio's tutorial for piecing hexagons by machine without marking. I'm looking forward to piecing my 34 sets of three hexies together!
And now it's your turn!