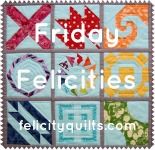 Happy weekend, all! Sadly, it's my least favourite weekend of the year: the one where we "spring back." Ugh. The whole "one less hour of sleep" thing and I don't get along very well. I seriously love my sleep.
Anyhoo, that's enough moaning from me. What's making Felicity happy today, you ask? What is Felicity's felicity?
I've begun exercising again. Not for weight loss (though I wouldn't mind if that were a side effect). For health. As a (technically) middle-aged woman and the mother of a young child, I feel it behooves me to take a bit better care of this body of mine. We live a healthy lifestyle, my little family and I, but what was missing from my routine was a commitment to exercise. I want to be a positive role model for my daughter in as many ways as I can and this area - of self-care of my physical health - was not where I wanted to be.
Screen shot of my 'Couch to 5K' free iPod/iPhone app
So I downloaded a free "Couch to 5K" app for my iPod touch and got out twice this week, even getting up early to run this morning. These apps are fabulous - a voice tells you when to walk and when to jog/run and when to cool down. It even turns down the volume of whatever music you're listening to (me, lately: Mumford & Sons) when it makes the little announcements!
And a bonus "felicity" - my thoughts on my full-day workshop with Sherri Lynn Wood are featured today on the Vancouver Modern Quilt Guild's
blog
.