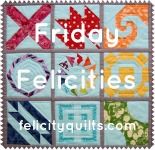 Last night I had the most lovely time delivering a trunk show to the Fraser Valley MQG. Because I give away the vast majority of my quilts, I didn't think I had enough to do a trunk show. WRONG! As it turns out, I had more than enough (I borrowed two from their current owners) and didn't have to break out the "virtual" trunk show (aka Powerpoint presentation with photos) I'd prepared!
The ladies were very gracious - laughed at my lame-o jokes and ooh and aahed at my quilts. That's my Felicity this week - I felt so very welcome and appreciated, and it was really nice to revisit some oldies but goodies as well as some newer work including my Madrona Road challenge quilt, for which I offer you an Instagram sneak peek only, because the full post is in the works:
Now, tell me - what was your felicity this week?