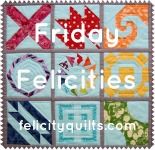 Hello! Happy Friday!
There's a couple of things that are making me happy today. First, these two quilties are heading to Austin in a short while:
Sea Glass on Sand (L) and Bohemian Confetti (R)
They'll be featured in the quilt show happening at QuiltCon! I'm completely thrilled and it's making me even more excited to be going.
My second felicity is that
Debbie A Quilter's Table
is hosting a
Triple-Zip Along
starting January 28th and the timing couldn't be better! I want to turn one into a purse for my niece. Have you been meaning to try her wonderful tutorial? Why don't you
join in
?
I hope you have a great weekend!