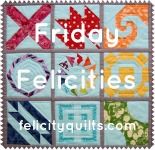 My felicity for this week is: Frugality!
You don't have to be a parent to know that children tend to have the rather expensive habit of growing out of things – mostly clothes and shoes. Mine is no exception. When I bought her some long-sleeved shirts last year, I purposely erred on the larger side with the size, hoping she could get two years out of them.
I was only half-successful. The sleeves and torso still fit, but the length was a problem because the shirts had shrunk up with repeated washings.
Luckily, however, I found
this tutorial
on Pinterest before I chucked the shirts into the hand-me-down pile! I changed it up a bit and stitched the ruffle right down on top of the shirt's hem so as to maximize the ruffly goodness which I knew would go over well with G.
Success! I ruffle-ized three shirts: I used scraps for one, cut strips from a repurposed t-shirt of mine for another, and for the third, I redeployed a WOF strip of jersey I'd tried (unsuccessfully) to make work as a scarf last year.
In other frugal news, I also made a pair of leggings for G. She doesn't really like jeans or cords (see above-mentioned waistband management strategy) but leggings are A-OK.
new leggings and ruffled shirt
I love the look of them under dresses and skirts and I particularly enjoy her creative legging/skirt combos. I've tried to draft my own leggings patterns before but they never worked properly so I broke down and bought a pattern (Kwik Sew 3476). They took a grand total of 30 minutes to make from cutting out to stitching the hems on the legs, plus G put them on right away so I TOTALLY WIN AT LEGGINGS!
Okay, my dears, share your felicities this week!