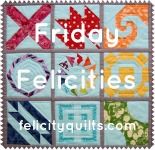 Ever wonder how the idea of Friday Felicities came to me? Well pull up a chair and grab a cuppa something: you're about to find out!
A while ago I watched a really interesting TEDx talk by Shawn Acher about something called
The Happiness Advantage
.
He turns conventional wisdom about seeking success as a means to achieving happiness on its ear and suggests that no, we should be seeking happiness first to put our brains "at positive" vs. negative, neutral or stress to maximize its capabilities and thereby increase our success.
Acher posits that you can train your brain to be at positive by doing just three things every day:
- write down three new things you are grateful for, to form the habit of looking for positives vs. negatives.
- meditation, to reduce the effects of what Acher calls our cultural ADHD - the constant influx of information/noise/etc.
- random act of kindness, to reach out and spread the happy.
The concept of seeking the positive vs. the negative really struck a chord with me, and I wanted to spend some time on a regular basis thinking about the things that make me happy: the felicities in my life as it were.
So that is what Friday Felicities is all about! And it really does work - as Friday approaches, my mind turns to ponder the question of what made me happy this week and I really do focus on the good as opposed to the crud.
My felicity this week is....the look of pure joy on my little G's face as she greeted her teacher on the first day of school. Friends, that look was a major "Mama moment" for me - one that I will never forget. Probably because I literally felt my heart swell as I saw her.
Walking to school on the first day
Have a lovely weekend!
p.s. I'm thinking about making Friday Felicities a linky party thingamahoo. Would you be interested? Let me know in the comments.