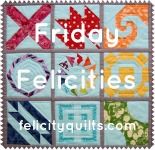 Short but sweet today - what's making me happy is that I finally got my rear in gear (as they say) and set about getting myself some business cards!
Realizing that
QuiltCon
is just around the corner provided the push I needed to contact my graphic designer friend Steve (
Abundant Sink Creative
) and just do it already. He was so patient with me, and I'm grateful. I'm so happy with the finished product! Now I have calling cards for QuiltCon and something to include with swaps and giveaways and whatnot.
And how about you? What's making you happy today? Do tell!