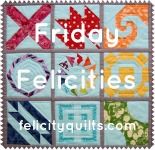 You won't be surprised to hear that today, what's (still) making me happy is last weekend's retreat. I got to meet a great
bloggy friend
in person.
Kristie knit me the gorgeous cowl I'm wearing - aren't those colours perfectly "me"?
And we got to shoe-shop together!
And I got to make stuff for people I care about!
A cover for a close friend's (giant) KitchenAid stand mixer in progress. Needs binding.
And I laughed till I nearly peed my pants (no photo for that one).

How about you? What's your Felicity this Friday?