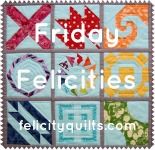 My felicity this Friday is....you! I know how busy everyone is, and how precious our down time is. That you spend some of it here makes me really happy.
Thank you to you all who come by regularly to see what I'm up to. Some of you comment, which I definitely enjoy, and some of you don't and that's okay too! I love that when I ask for advice, you're there to help, and when I make something you're there with lovely and kind words. THANK YOU!
Thank you thank you! Have a wonderful weekend (I'm going to - it's my birthday on Sunday!) and if you've got a Friday Felicity...