Thanks for your feedback! Friday Felicities is now a linky party, and I have even created a blog button that you can grab. I think that makes us official, eh?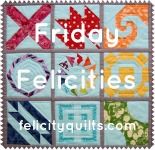 Even if you don't necessarily buy in to the concept of
The Happiness Advantage
, it can't hurt to spend at least a little time on a regular basis focusing your thoughts on what's good, what is making you happy at that moment.
My Friday Felicity for this week is that not only am I done my six straight days of training - lucky I had a weekend in between - but I have been receiving wonderful, ego-boosting feedback. More than one person told me that I was able to make a day-long workshop on policies and procedures not only engaging but fun, and several commission-based sales people said the time was well-spent, which is high praise from someone for whom time is literally money. The project's Steering Group is happy, my boss is happy, *I'm* happy. And now I'm off work for a whole week, and that is another felicity for sure.
Okay, now it's your turn! Write a post featuring a Friday Felicity, including the Friday Felicities button or a link back here, then come on over and link your post up here anytime before the end of tomorrow (Saturday). I can't wait to read them!